For easy and safe transport and storage of all your fuels.
FullTank offers you the total solution for the safest mobile storage of all your fuels with various pump sets, from standard hand pump to electric pump with or without tank level measurements. We always have a large stock of IBC tanks and can deliver immediately. Our technical service is specialized in and certified to perform the Kiwa and ADR inspections both in our own workplace and on location.
The IBCs can be equipped with the FullTank sensor so that you are always aware of your current stock. This allows you to prevent an empty tank and eases to monitor your consumption.
1000l – 2000l – 3000l IBCs
Delivery with our own low-loader
Various pump sets and counters
Plastic IBCs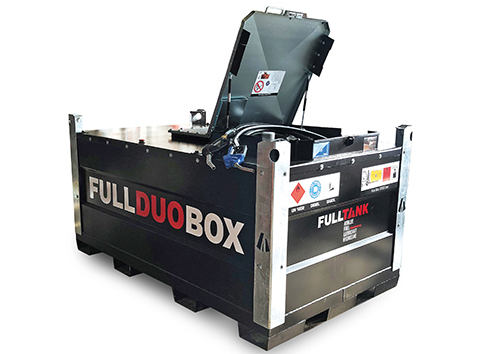 FullDuoBox with AdBlue
compartment
1000l IBC on trailer
Services and support
We have a technical service, Diesel CleanTank Service, Offroad Distrifuel and SOS Oil Service. This service guarantees a 24/7 availability of fuel and AdBlue® on location within a specific time frame. Depending on the requirements you have, we conclude a contract and agree on a quarterly amount. For computer centers, hospitals, etc., where the power supply is very important, it is reassuring that in case of power outages, the emergency generators do not stop due to fuel shortages.
Assembles the installations according to the customer's requirements
Correct certification
Kiwa and ADR tank inspections
FullTank content and GPS sensor
Online platform
Automatic supply
Installation security
Technical service on location
SOS Oil service, within a fixed time frame
Diesel CleanTank Service
In case of emergency available 24/7